Carbon Sequestration and Global Water A New Twist on an Old Theme
Carbon Sequestration and Global Water
A New Twist on an Old Theme
West Marrin, Ph.D.
Water Sciences & Insights
It should be no surprise that when we humans needed to dispose of the 21st century's
most "inconvenient" contaminant (carbon dioxide), one of the first places we would turn
is water. After a century of dealing with environmental, ecological, and human health
issues related to our dumping everything from raw sewage to mining wastes into the
planet's waters, we still have not overcome the urge to dump our unwanted stuff into
water. Carbon sequestration is the euphemistic label applied to the latest fad
of disposing that pesky CO2 into the deep oceans or groundwater, where it will remain undisturbed
forever (or at least for the duration of the research grants and initial monitoring phases).
Perhaps more importantly, carbon sequestration will permit us to address the CO2 issue
without having to make any real adjustments to our lifestyles. And for those of us who
remember similar rhetoric (i.e., "Don't worry, the stuff will remained safely buried with
no probable adverse effects.") when it was applied to indus trial and radioactive wastes,
there is always an option of planting trees to offset the waste gases produced by our
behemoth vehicles and aging power plants. After all, what could be more Earth-friendly
than contributing to a beautiful tree plantation on some far-away landscape?
After twenty-five years of work in the water quality field, I am witnessing yet another
generation of researchers, policy makers, and "think tankers" employ almost the same
perception of water and Nature that has accompanied us throughout the Industrialized
Age. In an era when thousands of square miles of plastic wastes are still accumulating in
the surface waters of the North Pacific Gyre, it is at least ironic that we are about to dump
into the deep waters of the Pacific (and other oceans) carbon dioxide generated during the
production of such plastics. The purpose of this presentation is to point out some of the
more obvious—but too rarely discussed—downsides of specific carbon sequestration
techniques and to suggest that we may want to shift our fundamental or underlying views
of water before we begin devising any more solutions. Otherwise, we are likely to just
perpetuate the current water and environmental crises in a slightly modified form.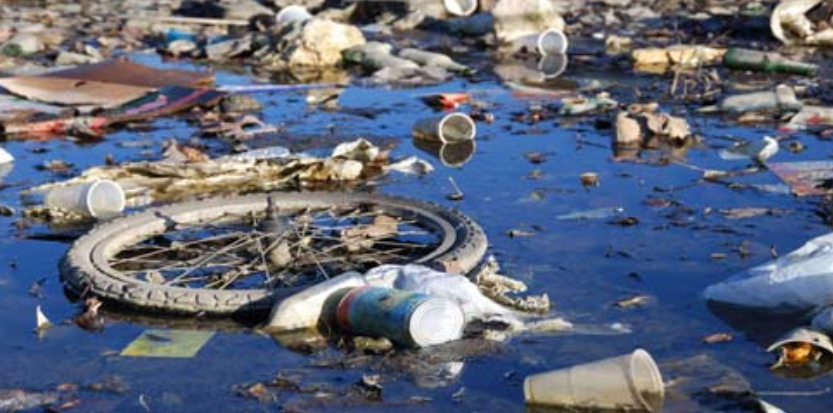 Polluted Water, © Jacus (123RF)
Sustainability Retreat, May 2007
Perhaps the most popular of the carbon seque stration techniques includes pumping liquid
CO2 into the deep oceanic depths, where it is predicted to remain as a slowing-dissolving,
dense, liquid waste. The term dense liquid waste refers to the fact that liquid CO2 is
slightly denser than the surrounding seawater, creating a kind of "carbon dioxide pool"
that conforms to whatever deep ocean basin receives it. For the moment, let's overlook
the considerable energy demands of capturing the carbon dioxide from its point sources
(e.g., the stacks of power plants), transferring it to a facility for cooling and pressurizing
into a liquid, loading the liquid CO2 onto tankers, shipping it to the ocean disposal sites,
and pumping it through long hoses to prescribed depths. Even if it were possible to
perform all of these tasks without utilizing the very same fossil fuels that generate CO2,
the act of disposing this liquid waste represents an enormous stress on the local deep sea
environment, where many biological organisms will be instantly killed and significant
changes in the pH and redox chemistry of seawater will rapidly ensue. It is worth noting
that the acidification of shallow ocean waters is already occurring as a result of excess
atmospheric CO2 partitioning into seawater and forming carbonic acid. As the pH (acid-
base) buffering capacity of the oceans is slowly diminished, rapid changes in seawater
chemistry may set the stage for events ranging from the disappearance of coral reefs to
the extinction of sensitive marine species.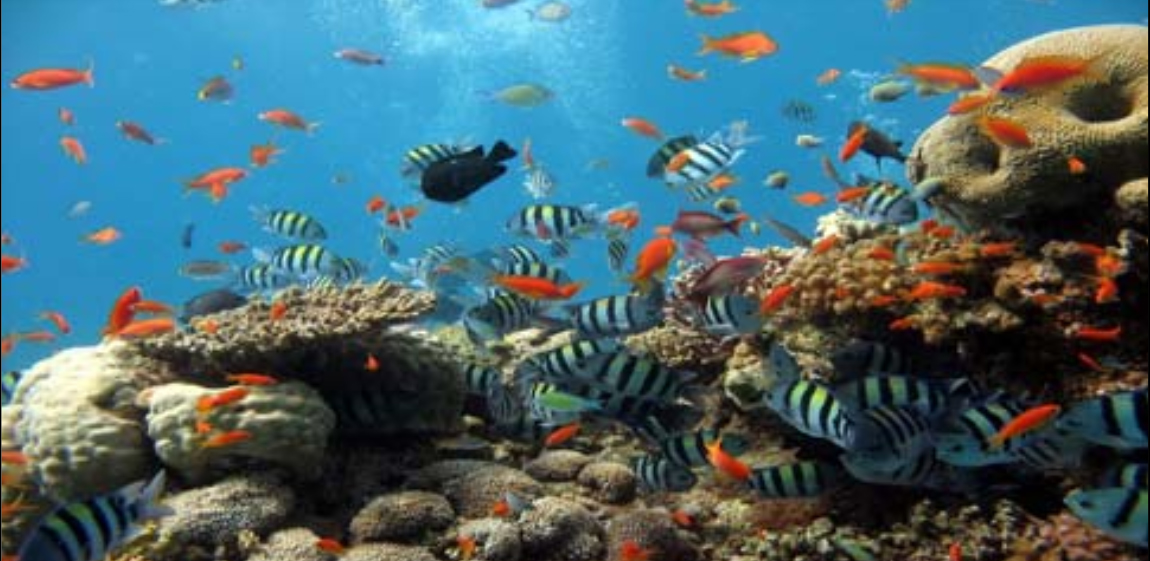 Red Sea Reef, © Elisei Shafer (123RF)
It is not known if chemical and biological changes will remain localized to the disposal
sites or if basin-wide conditions (e.g., temperature) will remain constant in the face of a
rapidly changing global climate. Should deepwater conditions change just slightly (as
has already been observed in some locations), the stability of gas hydrates
(a type of ice that encases CO2 and keeps the carbon dioxide pool in place) would be compromised,
permitting CO2 to mix with shallower waters and to reach the atmosphere sooner than
anticipated. The behavior of dense, CO2-saturated, seawater masses is uncertain due to
their susceptibility to gravitational forces and to episodic currents affecting the seafloor.
Even if the CO2 were pumped into geologic formations beneath the seafloor, seismic and
related activity (perhaps induced by the presence of liquid CO2 itself) is not uncommon
beneath the oceans. Whether or not the sequestered CO2 ever finds its way back to the
atmosphere, its inevitable mixing into oceanic waters is likely to affect conditions in
ways that we simply cannot predict. What we do know is that the oceans act as the
master controller of the planet's climate and they exert this control through countless
processes that are described by scientists as nonlinear, meaning that they are practically
impossible to predict or to ascribe to specific cause-and-effect relationships.
Sustainability Retreat, May 2007
While the oceans serve as the ultimate repository for all of our wastes, it is the planet's
freshwaters that have historically served as humanity's favorite disposal sites—probably
because we humans are terrestrial creatures. Surface waters were the early disposal
favorites because they were so handy; however, the ramifications of polluting a nearby
stream or river quickly encouraged us to look for more out-of-the-way sites. As humans
developed the means to drill wells deep in to the Earth, groundwater became a preferred
disposal site. In keeping with this perception of the subsurface, deep saline aquifers and
depleted oil and gas reservoirs (most of which contain a very salty water known as brine)
have been targeted as just the place to dispose of our excess carbon dioxide.
The disposal of carbon dioxide in underground waters is a bit trickier than pumping it
into the ocean depths due to the physical and chemical characteristics of the media
(e.g., sands or rocks) surrounding the pore spaces where CO2 is actually sequestered. Carbon
dioxide not only reacts with and changes the properties of groundwater (as it does with
seawater), it also reacts with the rocks in ways that may permit it to be trapped as a solid
mineral complex, to block the pore spaces, or to alter the chemistry of an entire reservoir.
While these may not sound like monumental in cidents, they could result in the blowout
of injection wells, the leakage of CO2 and other greenhouse gases (e.g., methane) to the
atmosphere, the subsiding or uplifting of the ground surface, the initiation of shallow
seismic activity (e.g., earthquakes), and the contamination of adjacent (perhaps drinking
water) aquifers. The slow release of carbon dioxide gas from an underground aquifer or
reservoir would simply nullify the carbon sequestration effort; however, the rapid release
of carbon dioxide could be lethal to humans and animals if its dilution in atmospheric air
did not result in a CO2 concentration below 10%.
Even if none of the catastrophic consequences of pumping carbon dioxide into aquifers
and subsurface reservoirs ever occurs, there are still the questions of how a devastated
microbiological community, atainted hydrological fluid, and an altered geochemical
environment will impact seemingly unrelated natural systems. We have repeatedly
learned that there is no such thing as an "isolated" environmental compartment, where we
can dump our wastes into a localized natural system without also affecting other systems.
However, when our ignorance and short-term memory finally give way to our arrogance
and desperation, we predictably treat the natural world as a global-scale laboratory—and
when things go unexpectedly awry, we are offered yet another chance to perceive water
and our world differently. Whereas a few global problems may require a human solution,
most global problems require an Earth solution that incorporates an innate wisdom more
profound than anything we can grasp with our intellect. Paradoxically, Earth solutions
are often implemented in ways that we do not recognize (primarily because they are too
slow or subtle); hence, we unintentionally override them in our zeal to attain a quick fix
and, at the same time, carry on with the activities that create the problems.
Another water-related activity included under the heading of carbon sequestration or
"carbon offsets" is the planting of trees in tropical and subtropical regions, many of
which have lost much of their biomass to logging or slash-and-burn activities during the
last century. So-called high biomass tree plantations have been shown to be a poor
substitute for virgin forests in a number of significant ways. Monoculture plantations
Sustainability Retreat, May 2007
disrupt local hydrologic regimes (e.g., substantially reducing surface water flows and
increasing the salinity or acidity of soils), increase the susceptibility of trees to disease,
and essentially constitute a swap of carbon credits for water losses. Presently, the Kyoto
protocol offers incentives for reforestation and tree plantations, but not for protecting
virgin forests, which are significantly more efficient in stabilizing global climate regimes,
preserving biodiversity, and maintaining a viable ecosystem. In essence, tropical farmers
have an incentive to cut down the virgin forests and then to create plantations. Virgin
forests are more than just endless rows of trees—whether or not we acknowledge it.
Meandering River, © West Marrin
The oceanic counterpart of tree plantations includes fertilizing surface waters with a
soluble form of iron (a limiting nutrient for the ubiquitous phytoplankton) to stimulate
photosynthesis and convert near surface CO2 into plant biomass that supposedly sinks
into the abyssal depths. Local "ironing" not only alters the most fundamental level of a
highly complex ecosystem, it affects a number of physical and chemical properties at the
sea surface, which is critical to both oceanic and atmospheric phenomena. Moreover, the
extent to which the biomass is sequestered, rather than metabolized by marine bacteria
near the ocean surface and converted back into CO2, depends on a vast array of ocean
properties that can vary substantially. Whereas many marine ecologists have cautioned
against such large-scale manipulations, a number of entities are engaging in this practice
for the purpose of making money in the lucrative carbon credit market.
The carbon credit market is characterized as rewarding the wealthiest nations and the
high-volume polluters, frequently to the detriment of the global climate and the poorernations
of the world. The present system of trading carbon credits has been repeatedly demonstrated as
flawed in a number of ways (e.g., firms receiving credits for performing routine practices and
generating cash for doing nothing). Although carbon sequestration is normally recommended as
only one of several solutions implemented for reducing atmospheric carbon dioxide
levels (others include curtailing energy consumption, using available energy more efficiently,
and switching to renewable energy sources), it remains a popular one because the technologies can be
implemented immediately, can work with no substantial changes in lifestyles or infras
tructure, and can sometimes turn a profit—at least a monetary one.
A difficulty with most cost-benefit analyses is the underestimation of costs (particularly
non-economic ones) arising from unanticipated problems that are
due to mistaken assumptions about the interaction of technologies with natural waters.
As much as I respect science and its understandings of the natural world, predicting the
effects of large-scale manipulations on complex earthly systems is very difficult.
Sustainability Retreat, May 2007
The global water cycle and the planetary carbon balance are interwoven so tightly that a
shift in one necessarily affects the other. In fact, water vapor is the only greenhouse gas
that can reverse the global warming trend on a short-term basis, and seawater is the major
regulator of atmospheric CO2. Similarly, the subsurface combination of groundwater and
biogenic/petrogenic gases is critical in maintaining the integrity of at least some geologic
formations and in determining the kinds of microorganisms and geochemical processes
that prevail. As we begin to relocate massive volumes of carbon dioxide into intricately-
balanced natural systems (e.g., in accordance with a February 2007 international law that
permits the oceanic burial of CO2), it may be well worth reflecting on our rudimentary
understanding of how Nature maintains these systems and our dismal record for burying
other types of wastes either in the oceans or beneath the ground. Although we claim to
have learned much from our experiments with earthly systems, one of the things we have
not gained is true respect and reverence for the Earth and "her" ability to both detoxify
and recover from our inadvertent, but cumulative, assaults if we would change our focus
from fixing to minimizing them.
Selected Readings
Kay Damen, Andre Faaij, and Wim Turkenburg."Health, safety and environmental risks of
underground CO2 storage–overview of mechanis ms and current knowledge,
"Climatic Change 74 (2006): 289–318.
Ilker Fer and Peter Haugan. "Dissolution from a liquid CO2 lake disposed in the deep ocean,"
Limnology and Oceanography 48 (2003): 872-883.
Fengxiang Han, Jeff Lindner, and Chuji Wang. "Making carbon sequestration a paying
proposition,"Naturwissenschaften 94 (2007):170–182.
Robert Jackson, Esteban Jobbágy, Roni Avissar, Somnath Baidya Roy, Damian Barrett, Charles
Cook, Kathleen Farley, David le Maitre, Bruce McCarl, and Brian Murray. "Trading water for
carbon with biological carbon sequestration,"Science 310 (2005): 1944-1947.
R. Juanes, E. J. Spiteri, F. M. Orr Jr., and M. J. Blunt. "Impact of relative permeability hysteresis
on geological CO2 storage,"Water Resources Research 42 (2006): W12418.
Larry Lohmann. "Carry on polluting,"New Scientist (2 December 2006): 18.
Eduard Niesten, Peter Frumhoff, Michelle Manion, and Jared Hardner. "Designing a carbon
market that protects forests in developing countries,"Philosophical Transactions of the Royal
Society—London 360 (2002): 1875–1888.
_______________
D.L. "West" Marrin, Ph.D. is a scientist, naturalist, and educator who lives on the Hawaiian
Island of Kaua'i. He is the author of numerous articles and two books (Altered Perceptions:
Addressing the Real Water Crises and Universal Water: The Ancient Wisdom and Scientific
Theory of Water). More information on his background and work may be accessed on his web
site www.watersciences.org.